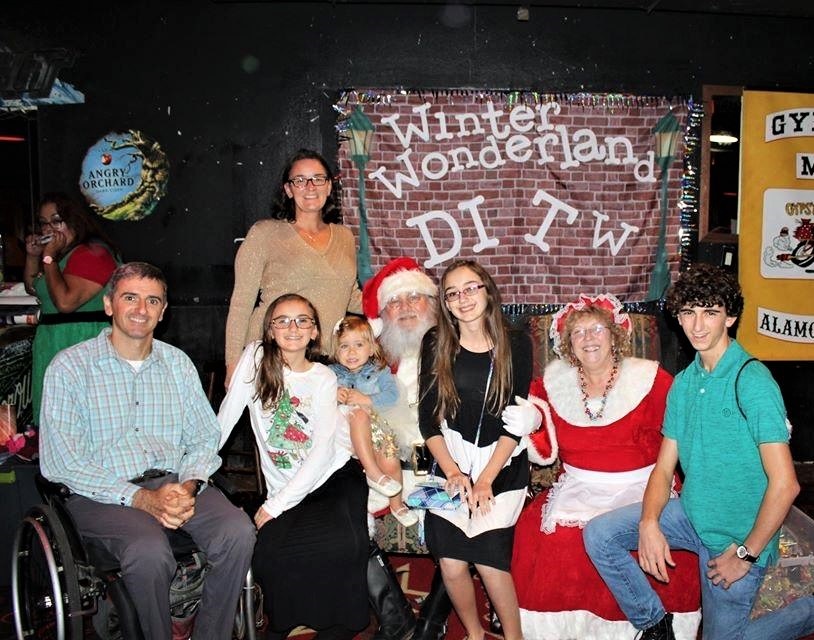 Door In The Wall's "A Country Christmas"
On December 8, 2019, Door in The Wall celebrated its 25th Anniversary and hosted its annual "A Country Christmas at Cowboys Dancehall" in San Antonio, Texas. Door in The Wall, Inc. a 501©(3) nonprofit organization has provided programs for people with disabilities and special needs. TDVA provided Christmas gifts for children, adolescents, and adults of all ages with disabilities. Each gift was presented by Mr. and Mrs. Santa and their Elf helpers. TDVA strongly supports events and services that improve the quality of life of the disabled community throughout the year.
Half Price Books provided free books and the event was catered by Grady's barbecue restaurant. Raffle tickets, cakes, cookies, sausage on a stick and popcorn were sold to raise funds. Paul Sanchez and the Wrangler Country Band played Holiday favorites. Santa Claus played the drums occasionally with the band. Special appearances are made by Spider Man and the San Antonio Spurs Coyote. The 3AM Motorcycle Club sponsored a fish tank for guest of all ages to fish for prizes.
Over 350 people attending this year's event, approximately 40 volunteers assisted with set up, accommodating guest and families, and event break down. A big thank you to the Gypsie Motorcycle Club volunteers, 3AM Motorcycle Club volunteers, the Boy Scouts for presenting the colors, Door In The Wall volunteers, and HEB volunteers. Please view their website at www.ditwtexas.org they are dedicated to spreading disability news and hosting great events all year round.