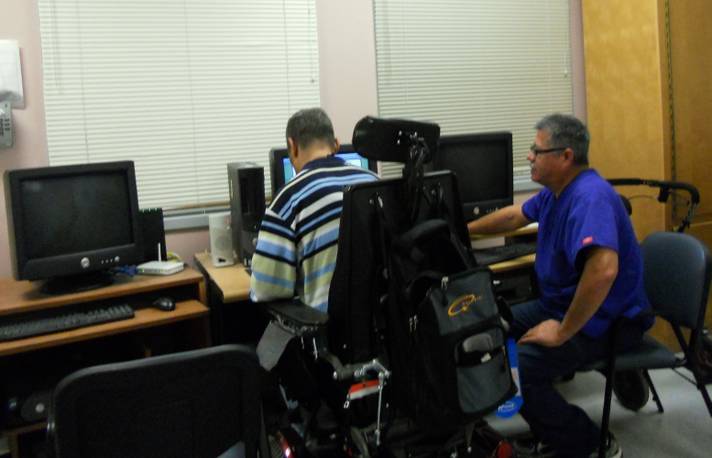 OT/PT Computer Lab with the PAVE Program
Over two years ago, the TDVA and the Spinal Cord Injury Unit Physical Therapy & Occupational Therapy Clinic created a small computer lab for in-patients and out-patients to have ready access to three desktop computers with Win XP software, open office, voice-recognition software, above is Therapist Gary Garcia working with a Spinal Cord Injury Unit In-patient on software usage, typing skills and voice recognition application. All three desktop computers had recent software upgrades provided by the Office of the PVA's Operation PAVE Program, also Shown above, TDVA's mission continues to provide computers to disabled veterans so that they may have productive and active lives. TDVA seeks donations of desktop and laptop computers to continue servicing our veterans, please contact TDVA at www.tdva.net if you wish to donate a computer our always demanding need is laptops for Veterans who are attending school or vocational rehab training.
TDVA's Computer Program has assisted the Paralyzed Veterans of America Operation PAVE (Paving Access for Veterans Employment) Program by providing refurbished desktop and laptop computers. PAVE Program clients were able to return to college and attend online courses. Several more clients are now able to use the Internet to work from home, manage finances, and stay connected to friends and family. TDVA has worked together with the PAVE Program to improve the lives, personal outlook, and vocational prospects of its clients. Pictured above Keisha C. Wright, Veteran and PVA Certified Rehabilitation Counselor can be contacted at keishaw@pva.org 210-617-5300 extension 10148.