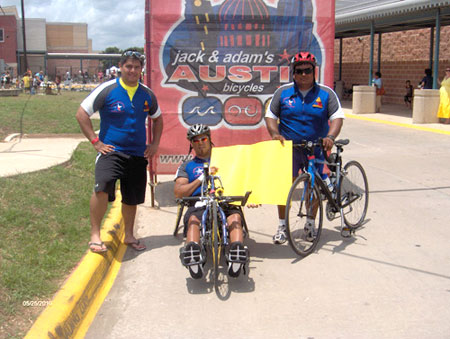 Bringing San Antonio's "Tour De Cure" Across the Finish Line
On May 22-23, 2010, TEAM SPEARHEAD ARMOR took part in the annual cycling of the "Tour DE Cure" a 160 mile trek and a 110 mile trek to Austin, Texas. Team members: Gil Garcia, Brian Perez, and Erik Yebra were the riders representing TDVA. Also staff members Bernice Perez (children Lauren and Bryce) and Roxy Yebra assisted with the SAG duties for the 2 day ride along the scenic Texas roads from San Antonio to Austin.
Team Spearhead cycled in tribute and as sponsor's of a young girl, Christina Salazar, who has diabetes.
The purpose of cycling so many miles is to raise awareness in the community and motivate disabled veterans and the general public.
TDVA donated T-shirts and sponsored logos on the jerseys and the print cost for the event.
TDVA and Team Spearhead Armor will continue to plan more cycling events throughout Texas. Thanks to all who made Team Spearhead a success and watched them conquer the Texas hill country roads at the Tour De Cure.